Equipment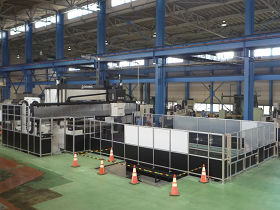 Introduction of new equipment
Okuma MCR-C
Five-axis
Sep.2023 Start of production
XYZ Stroke 8000~4650~1250

Five shaft processing machine
Okuma MCR-B‡V
Five-axis
XYZ Stroke 8000~2500~1550''

Lasaer Tracker
It is possible to measure by 3D ordinate measuring.
In addion to that , we make go on abusiness trip to measure.
We have been equipped with API's and FARO's Laser Tracker.
More detail about this Laser Tracker
@@@@@@@@@@@@@


3D-co-Ordinate Measuring Machine
This measuring machine is equipment in constant temperature factory and it can measure by ultra-precision measuring.

Five shaft processing machine
It is able to do machining about three-dimensional curved surface with high precision.
Of course, we will do machining up to large size parts too.



Combined Lathe
We will do various machining from turning machining up to milling machine.





Vertical Turning
We will do machining up to diameter maximum 5500mm.





Gun Drill Machine
This machine is deep-hole processing machine. Ordinal machining can dig a hole a hundred time of hole diameter. It is able to dig-hole machining more than a hundred time by special order.





Precision Processing
We do ultra-precision machining






Wire Cut
We will do machining a product that it is impossible to process by milling machining and turning maching with this machining.



---
---
---
---